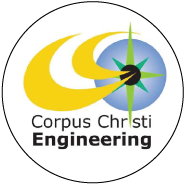 Park Road 22: South Access Road
Park Road 22 Access Road is a half-mile roadway that acts as both an access roadway for the adjacent S.P.I.D/PR22 as well as an important neighborhood connector roadway, allowing passage from the older portions of the island around Aquarius Drive to the newer portions of the island around Whitecap Blvd. The development of the roadway began in the 1960's at Jackfish Ave. The final roadway portions were built in the 1990's, terminating at Commodores Dr. The roadway relies on surface drainage through curb and gutter and valley gutters, eventually draining into the Padre Isles canal system and ultimately into the Laguna Madre. In the current Transportation Plan, PR22 is shown to be an A2 divided arterial. The TxDOT ROW for SPID/PR22 is 200 feet wide, with a separate 38-foot City ROW for the PR22 Access Rd. This project will focus on the reconstruction of approximately 2,200 LF of roadway from Commodores Dr. to Jackfish Ave.

Proposed improvements for this project will include roadway, curb and gutter, driveways, storm water drainage improvements, potable water improvements (domestic water distribution and fire protection), wastewater improvements, and construction of ADA-compliant pedestrian improvements. Associated improvements such as pavement markings and signage will be made as required. Additional ROW acquisition is needed for a sidewalk easement to avoid an AT&T vault occupying the sidewalk space within the ROW.
---
Questions?
Sr. Public Information Officer, Melanie Lowry | 361-826-3837 | MelanieL@CCTexas.com
© 2020 City of Corpus Christi